Offset Printing
Our commercial Offset Printing equipment offers the ability to print on large sheets of paper and packaging boards, in bigger quantities than the smaller digital printing process.
This provides a cost effective solution for your printing project, which we can further enhance with the variety and adaptability of the printing machines we have available.
We can accommodate multi-colour printing on a wide range of papers, finishes and weights, with special treatments and embellishments.
When you are needing flyers, brochures, maps or maybe magazines, catalogues, booklets or even custom packaging; you need to speak with us.
If it can be printed, we can do it, on time and on budget, every time.
KBA Rapida 106 10 Colour Perfector
Our awesome 10 colour perfecting machine, can print both sides of the paper at the same time, at speeds of 18,000 sheets per hour. With incredibly fast set-up times, and precise in built quality control features, it allows us to power through large multi-page booklets and catalogues and those thousands of letterbox leaflets you crave!
Komori Lithrone S40 5 Colour + Coater
The 5 Colour printing machine gives us great versatility on jobs requiring special coatings and infra red drying, all whilst maintaining speeds of around 13,000 sheets per hour. Perfect for custom packaging, covers for high end calendars and presentation folders.
Both of these commercial Offset machines can print on sheets of paper as large as 720mm x 1020mm.
Ryobi 2 Colour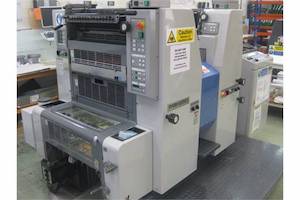 Heidelberg GTO 1 Colour
Our smaller offset machines, are ideal for envelopes, carbonised booklets with numbering and perforating, job cards, pads, drink coasters and anything that is smaller than 360mm x 520mm.
Miyakoshi Web Offset

Our beloved Miyakoshi is the only one of its kind in W.A and is what we use to print most of our large orders that require multi-part carbonised papers.
Printing up to 5 colours on rolls of paper, then sheeting down to your required size, it also has the ability to apply variable security numbering. Every week, we produce thousands of books for the transport and logistics industry for their Consignment or Delivery Dockets. Then there's the infringement and security booklets, inspection pads and the list is endless.
And we still get orders for company cheques and continuous stationery!
What are the advantages of offset printing:
Larger quantities can be produced more cost effectively
A greater choice of paper and board materials can be used
Bigger sheet sizes can be sourced which is great for packaging
Pantone, metallic and fluorescent inks can be used as well as special custom colours
Delivers the highest print quality, with greater detail and colour clarity.
Why choose Quality Press for your offset printing needs:
Quality Press has five offset printing machines to cater for any job
We can print onto rolls or sheets of paper, keeping it cost effective
From a lightweight 55gsm up to a bulky 450gsm, we can handle it
An expansive range of sizes from 99 x 210mm up to 700 x 1000mm
We can print both sides at the same time, which means less waste and faster printing
Anti-scuff varnishes or gloss embellishments can be added whilst printing.
With machine speeds up to 18,000 sheets per hour, you won't have to wait long
We have won countless printing craftsmanship awards for work produced for proud clients
You can come and watch your job being printed
We would love the opportunity to discuss how Quality Press can use offset printing for your next printing project and look forward to working with you soon.